RIR homecoming parade approved by Belfast City Council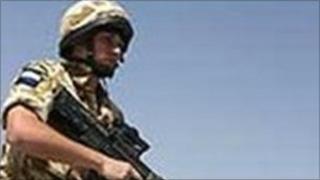 The Army has yet to confirm if it will hold a homecoming parade in Belfast for Irish regiments returning from Afghanistan.
Belfast City Council voted to approve a parade for the Royal Irish Regiment and the Irish Guards on Monday night.
The motion was backed by the DUP, UUP and Alliance parties, but opposed by the SDLP and Sinn Fein. The final vote was 26 to 20.
There were protests at a previous parade in 2008.
The Army said a number of events were being planned in connection with the soldiers' return and details would be announced in due course.
Sinn Fein councillor Gerard O'Neill said the parade would be "divisive".
"For many people there remains an issue concerning the British army's involvement in the north of this country," he added.
DUP councillor Christopher Stalford said the modern army was for everyone.
"There are many people from a nationalist background whose families have an army connection going back to the second and first world wars," he said.
SDLP councillor Niall Kelly said the parade would pass through Belfast city centre "which is a shared space and that's not something we're willing to get into."
The UUP's Philip Robinson said the parade would offer the opportunity for people to welcome the soldiers home "and to show that the community appreciates the privations they suffered and hardships they endured".
Alliance Party councillor Mervyn Jones said he was not sure the Army wanted to hold a parade, and his party had considered tabling some alternatives such as a church commemoration.