Constable Ronan Kerr symbolised new era of NI policing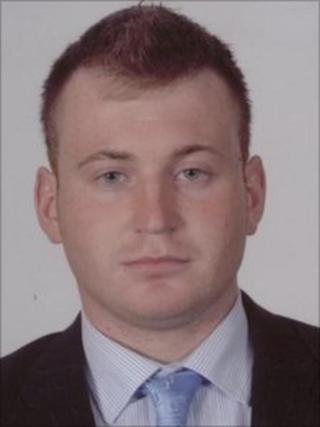 Ronan Kerr symbolised the new era of policing in Northern Ireland.
He was one of 2,160 Catholics in the ranks of the PSNI.
That fact made him a prime target for those who placed a bomb under his car.
Dissident republicans want to drive a wedge between the police and the nationalist community in their efforts to destabilise the political process.
Ronan Kerr's mother has appealed to Catholics not to be deterred.
"This is a time when we are aiming for a neutral police force for the good of the country," she said.
"And I urge all Catholic members not to be deterred by this. We need to stand up and be counted."
Sinn Fein leader Gerry Adams echoed that comment when his party pressed ahead with an election event, saying they didn't want dissidents to dictate the agenda.
"Before Mrs Kerr spoke yesterday I was asked this question and I said that young Catholics, young nationalists, young republicans, in fact people from all backgrounds and none should join the PSNI," he said.
"So we have a duty to stand with them and I would appeal to those who want to take up a career in policing, in civic policing, in community policing, to do so and not to be deterred."
Encouraging Catholics to join the police was an essential ingredient for the peace process to work.
At the height of the troubles, the RUC had more than 13,000 officers - and more than 90% of them were Protestant.
Ten years after it was replaced by the PSNI, almost a third of officers now come from the Catholic community.
There's also growing support for the police in Catholic areas - clearly demonstrated by the minute's silence observed by players and fans before Sunday's GAA match involving Tyrone.
Afterwards, the Tyrone manager, Mickey Harte, made his feelings clear.
'New era'
"It's a totally despicable act and everybody in the GAA and anybody who values human life would be disgusted by what happened," he said.
"My heart goes out to his family and I know well what that's like at the moment."
In the Bogside area of Londonderry on Monday, graffiti in support of those who killed Ronan Kerr was hurriedly painted over.
One local man gave his opinion on the murder.
"I think it's ridiculous. We look for peace and that's not going to help," he said.
Peter Sheridan served in the RUC and was the most senior Catholic within the PSNI, reaching the rank of assistant chief constable.
Today he's chief executive of Co-Operation Ireland. He says the Catholic church, and nationalist political and civic leaders have a duty to support Catholics joining the police.
"We persuaded them and encouraged them on the basis that we were entering a new era," he said.
"That it was a more peaceful society, that it was more normalised policing. It is incumbent upon us to ensure that those young officers who have joined feel that support from the community.
"They should not feel isolated from their community, they should not be alienated, they should be encouraged."
This isn't the first time a Catholic PSNI officer has been targeted. In January last year, constable Peader Heffron - a fluent Irish speaker and captain of the police GAA team - was seriously injured when a bomb exploded under his car.
Despite widespread condemnation of Ronan Kerr's murder, the police fear dissident republicans may have already identified their next target, and will continue their efforts to kill more officers.
They've appealed for information, as well as condemnation, to help catch those responsible, and prevent further attacks.