Omagh bomb husband visits Constable Kerr's family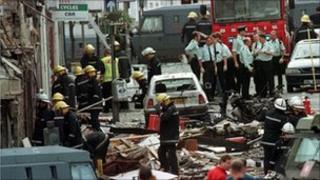 The husband of a woman killed in the 1998 Omagh bomb has visited the family of a PSNI officer killed in Omagh on Saturday.
Constable Kerr, 25, was killed by a bomb which exploded under his car outside his Omagh home on Saturday.
Police believe dissident republicans were responsible for the attack.
Stanley McCombe lost his wife Ann when the Real IRA bombed Omagh in 1998, killing 29 people including nine children along with unborn twins.
Mr McCombe visited Ronan's mother Nuala and the rest of the family on Sunday.
"She was very brave, she is a strong person," he said.
"She told us that was his life and that was what he dreamt about and he was very, very proud to be a member of the PSNI. She said the family were very proud of what he had chosen as a career."
Thelma Johnston's son Constable David Johnston and Constable John Graham were the last police officers to be killed by the IRA in Northern Ireland. They were shot dead in Lurgan in June 1997.
She spoke to BBC Radio Ulster about how such an event affects those left behind.
"It's awful to think that these faceless men that are running about are allowed to do this sort of thing. And where is the justice?" she said.
'Justice never comes'
"All they want is more bloodshed just like my David and John Graham were left lying in the street. And they hadn't even the guts to dress as men, they dressed as women when they killed those two boys.
"The emptiness it leaves in a family it never goes away, it's always there."
Mr McCombe said while he hoped and prayed those responsible for Constable Kerr's death would be brought to justice he did not think it was likely to happen.
"It makes me angry when I listen to all the politicians, the heads of state, heads of the security forces say that they will do anything in their power to bring these people to justice," he said.
"In our own case, 12 and a half years have passed and no-one has ever been brought to justice for Omagh and it's more than likely that no-one ever will. I said to Nuala last night that this is something that we have to bear and face up to.
"And what kind of message is it to these people that they can do what they wish to do and they can come back into Omagh and cause carnage and death?"
Mrs Johnston said she also had little hope her son's killers would be caught.
"The politicians come to your home and they tell you they will leave no stone unturned until we get these people. Well I've been waiting for that stone to be turned for 13 years," she said.
"And all you say in your heart is when will I get justice? But justice never comes."