Ronan Kerr: grandfather's tears for 'lovely lad'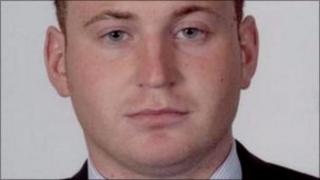 The grandfather of murdered police officer Ronan Kerr has said tears come to his eyes any time he thinks about him.
Constable Kerr, 25, was killed by a bomb which exploded under his car outside his Omagh home on Saturday.
Police believe dissident republicans were responsible for the attack.
"Ronan was a lovely lad. Nobody had a bad word about him," John Kerr, from Andersonstown in west Belfast, said.
"Every time I think about him, the tears come to my eyes. It's desperate thinking about it.
"As his mother said, he would have made a good policeman - fair."
Mr Kerr's son Brian - Ronan's father - died three years ago from cancer. The Belfast man paid tribute to the bravery of his daughter-in-law Nuala and how she was coping with the latest tragedy.
After visiting her and his grandchildren on Sunday he said: "It's a sad house and it used to be a real happy house."
He said he had been surprised that his grandson had chosen a career in the police in light of the dangers officers were facing, but said he seemed happy in the job.
"It's a brave thing to do to go against the Troubles," Mr Kerr said.
"He didn't have any worries about what was going to happen to him or any dangers."
Mr Kerr said his grandson's murderers had no backing in the community.
"There's no support at all for them, no support at all," he said.