Gerry Adams: Sinn Fein 'no dissident mixed messages'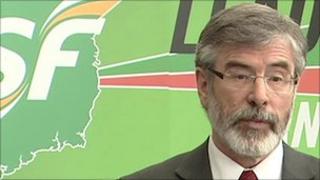 Sinn Fein President Gerry Adams has rejected Ulster Unionist claims that his party is not doing enough to tackle dissident republicans.
Speaking at his party's campaign launch, Mr Adams said people should not assume his organisation had knowledge of these groups.
He also rejected the notion his party was sending out mixed messages by standing up for dissident Gerry McGeough on the one hand and condemning dissidents on the other.
The former IRA man was found guilty in February of the attempted murder of an off-duty UDR soldier 30 years ago.
A character reference supplied by Fermanagh/South Tyrone MP Michelle Gildernew was read out in court last week ahead of sentencing.
Mr Adams said Mrs Gildernew was entitled to defend her constituents.
'No justification'
Asked if he agreed with Martin McGuinness's remark in 2009 that dissidents were "traitors", he said it was "worse than that".
He said their actions made "no sense" and had "no justification".
The party said it had considered postponing Monday's campaign launch following the murder of police officer Ronan Kerr, but decided to go ahead to show the primacy of politics.
"The more we thought about it and discussed it, the more important it seemed to us that the political process cannot become a hostage to the unrepresentative group which murdered Constable Kerr," he said.
"The peace process is too important for that.
"So we stand here determined to keep making politics work; to keep defending the political institutions and keep delivering for ordinary people and demonstrating what republicanism is about."