Murder 'brings back terrible Omagh pain' says priest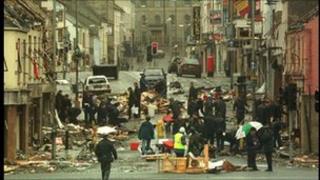 A priest who suffered with his parishioners through the 1998 Omagh bomb said Ronan Kerr's murder had awoken the "terrible pain that lurks in the hearts of the town".
But Father Kevin Mullan said the world had turned to Omagh once again.
"It has reawakened the sympathy of the world for Omagh," he said.
He and clergyman from the Methodist, Presbyterian and Church of Ireland parishes visited the young policeman's mother, Nuala, on Sunday.
"We all travelled together to the house. We had a time of prayer. We met a very quiet, calm and collected woman with her extended family," he said.
Fr Mullan said he could feel the strength of Mrs Kerr's words to the community.
He said other families could so easily have been in her shoes and he said young Catholics who decided to join the police should be supported.
"They are very brave, very courageous. It is their choice about what career they want to follow. Their courage must encourage us to be brave, to say what is right and to do all that we can to tilt the balance towards hope again," he said.
Fr Mullan, from Drumquin parish, said that the Omagh bomb had not divided the community and Ronan Kerr's murder would not divide them either.
A Church of Ireland colleague received a call from Kenya, he said. He, himself, had been in touch with concerned callers from America and a prayer group in England had also sent messages of support.
"It has touched us and reawakened the sympathy of the world for Omagh," he said.
The killing also brought back memories of the 1998 bomb to Michael Gallagher whose son, Aidan, died in that attack. Since then he has challenged the nationalist community on both sides of the Irish border to take more steps to isolate dissident republican groups.
Mr Gallagher said the family would face a lot of pain in the weeks to come.
"They are going to have a very, very difficult time ahead. But the entire community is with them and behind them," he said.
Mr Gallagher said Nuala Kerr was a strong woman who wanted to tell the world what sort of person her son, Ronan, was.
"She was very proud of him. He loved the job he had taken on. He knew the challenges but he was willing to accept those challenges."
And he added that the community were "disgusted" by the murder.
"We must make sure that a message goes out to the Republicans who carried out this atrocity that we will not accept it," he said.