Ronan Kerr murder: NI leaders to meet police chief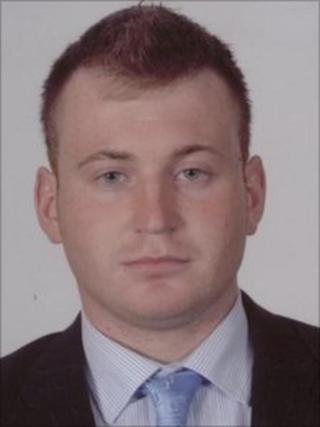 Northern Ireland's political leaders will meet Chief Constable Matt Baggott this morning to discuss the murder of Catholic police officer Ronan Kerr.
He will update them on the inquiry and the efforts to ensure Catholics are not deterred from joining the police force.
The 25-year-old constable was killed by a booby-trap bomb which exploded under his car in Omagh on Saturday.
No group has admitted carrying out the attack but police believe dissident republicans are to blame.
No arrests have so far been made.
Political stand
BBC Ireland correspondent Mark Simpson in Belfast said that by killing a young Catholic police officer dissident republicans were hoping to inflame old political divisions but instead politicians in Northern Ireland had stood together.
First Minister Peter Robinson, Deputy First Minister Martin McGuinness and Justice Minister David Ford will have a meeting with Chief Constable Baggott.
The dead policeman's mother Nuala Kerr has called on Catholics to keep joining and supporting the police, saying she did not want her son to die in vain.
Mrs Kerr said: "It's a sad day for our community. Ronan was a valued member and he had so much to offer.
"This is at a time when we are striving for a neutral police force for the good of our country and I urge all Catholic members not to be deterred.
"We all need to stand up and be counted and to strive for equality."
Police appeal
The murder of Constable Kerr has been widely condemned by political leaders in Northern Ireland and in the rest of the UK.
Chief Constable Baggott has said the attack was carried out by a "potent and dangerous minority".
He said police needed to speak to residents in the Highfield area of Omagh, where the bomb exploded.
"We need to know what they saw and what they heard over the past few days," he said.
Constable Kerr joined the police in May 2010 and had been working in the community since December.
He was the second officer to be killed since the Police Service of Northern Ireland was formed out of the Royal Ulster Constabulary in 2001.