Gerry Adams rejects Ronan Kerr Omagh car bomb murderers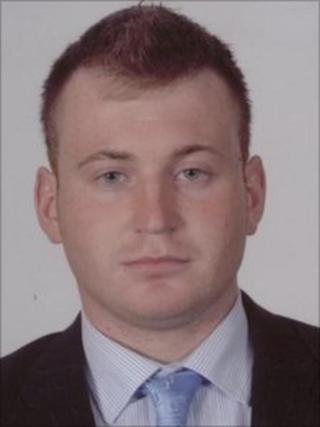 Sinn Fein President, Gerry Adams, has rejected those responsible for the murder of a Catholic police officer on Saturday night.
Constable Ronan Kerr, 25, was killed after a booby-trap device exploded under his car, in Omagh, County Tyrone.
The attack has been blamed on dissident republicans opposed to peace.
Mr Adams said it was a "futile attempt to destroy the progress that has been made, which has the overwhelming support of the people of this island."
In his press conference on Sunday, Mr Adams said the political response must go beyond condemnation.
"It is imperative that everyone make clear their opposition to the murder of Constable Kerr. Every citizen must defend the process."
"This action and those responsible for it must be totally rejected. I am calling upon those involved to stop and to stop now."
Mr Adams also said young republicans and nationalists should continue to join the Police Service of Northern Ireland.
He also said Sinn Fein would go ahead with their election launch on Monday because dissidents cannot be allowed to dictate the agenda.
Earlier on Sunday, Northern Ireland Chief Constable, Matt Baggott, said the attack was carried out by a "potent and dangerous minority".
Chief Constable Baggott said they needed to speak to residents in the Highfield area of Omagh, where the bomb exploded.
"We need to know what they saw and what they heard over the past few days."
Constable Kerr was the second policeman to be killed since the Police Service of Northern Ireland was formed out of the Royal Ulster Constabulary in 2001.
Constable Kerr joined the police in May 2010, and had been working in the community since December. Prayers were said for him at vigil masses throughout Omagh on Saturday night.
Since 2007, dissident republicans have planted several booby-trap bombs under the private cars of police officers.
Most bombs have failed to detonate, but in January 2010 Constable Peadar Heffron, 33, was injured when a bomb exploded under his car. He later lost his leg. Dissident republicans had been blamed for the attack
In March 2009, a police officer was shot dead as he answered a distress call in Craigavon, County Armagh.