PSNI Constable Ronan Kerr's brother pays tribute to him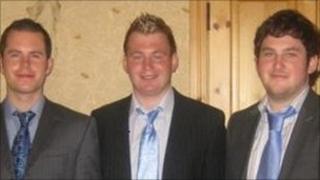 The brother of murdered PSNI Constable Ronan Kerr has paid tribute to him.
The 25-year-old police officer was killed in a bomb attack in Omagh on Saturday.
Cathair Kerr posted the message on the micro-blogging website Twitter on Sunday morning.
The message read: "Ronan Kerr - Rest in Peace my beloved brother. The best brother anyone could wish for. I hope dad is there to meet you at heavens gates :(."
Constable Kerr's identity had been withheld until his brother, who was en route from Australia at the time of his death, could be informed.
Friends and colleagues have also been paying tribute to Constable Kerr.
Parish priest Father Arthur McInerny new Ronan Kerr well.
"Ronan was a particularly fine young man," he said.
"He wanted to do something worthwhile and to help people. He was very good with people. He'd see no wrong in anyone, that's the sort of person he was."
A police colleague of Constable Kerr, who was working with him on Thursday, described him as "social, civil and respectable".
"He was the best probationer I'd ever worked with. He was very well liked and his colleagues are just in shock," the officer said.