PSNI Chief Constable appeals for Omagh car bomb help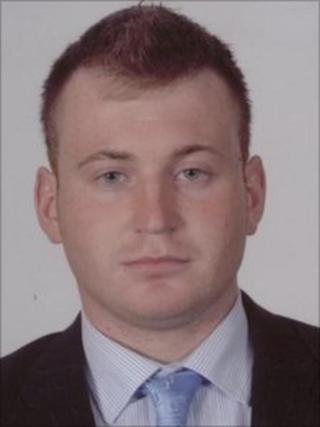 Police have appealed for information after the murder of a Catholic police officer on Saturday night.
Constable Ronan Kerr, 25, was killed after a booby-trap device exploded under his car, in Omagh, County Tyrone.
No group has claimed responsibility for the attack, but it has been blamed on dissident republicans.
In a press conference on Sunday, NI Chief Constable, Matt Baggott, said the attack was carried out by a "potent and dangerous minority".
Chief Constable Baggott said they needed to speak to residents in the Highfield area of Omagh, where the bomb exploded.
"We need to know what they saw and what they heard over the past few days."
Constable Kerr was the second policeman to be killed since the Police Service of Northern Ireland was formed out of the Royal Ulster Constabulary in 2001.
At the press conference, Chief Constable Baggott, said it may be some time before residents would be allowed back into their homes.
Scared
"We apologise for that, but I'm sure they will understand the need for us to conduct the most professional and comprehensive investigation into Ronan's murder," he said.
"We also want to talk to anyone who saw or spoke to Ronan since last Friday, especially if he was in his car, a black Ford Mondeo, registration number PNZ 1114. We really do need to talk to you.
"There are people living in this community who have information which is absolutely vital to this investigation. Please come forward," he continued.
"We understand there will be some people who might be scared and maybe do not want to talk to police. You can give information anonymously to the independent charity Crimestoppers on 0800 555 111.
"But our preference is for you to talk to us directly, whether you live in the Highfield area or whether you have information about Ronan's movements last Friday and Saturday."
Dissidents
At the press conference, Northern Ireland Justice Minister, David Ford, described it a "callous, calculated and cowardly act".
"The entire community is united in their revulsion and condemnation," he said.
"Terrorists stand against the people of Northern Ireland. They offer us nothing.
"We must come together now to ensure that Northern Ireland has the shared future it so richly deserves."
Constable Kerr joined the police in May 2010, and had been working in the community since December. Prayers were said for him at vigil masses throughout Omagh on Saturday night.
About 2,000 people, who were taking part in the Omagh half marathon, had passed the nearby entrance to the estate just hours before the blast in Highfield Close.
Since 2007, dissident republicans have planted several booby-trap bombs under the private cars of police officers.
Most bombs have failed to detonate, but in January 2010 Constable Peadar Heffron, 33, was injured when a bomb exploded under his car. He later lost his leg. Dissident republicans had been blamed for the attack
In March 2009, a police officer was shot dead as he answered a distress call in Craigavon, County Armagh.