NI red squirrels face new threat of fatal pox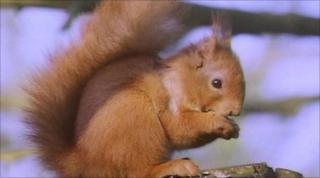 The native red squirrel population of Northern Ireland is facing a fresh threat in the shape of a fatal disease.
Squirrel pox, which is carried by the non-native grey squirrel, has been confirmed as the cause of death for a native red squirrel in Tollymore Forest Park, County Down.
The disease is carried and spread by grey squirrels which are immune to its effects.
It has destroyed native red squirrel populations in other parts of the UK.
Senior Wildlife Inspector Dr Declan Looney from the NI Environmental Agency said: "This is the first recorded instance of a red squirrel dying from this disease on the island of Ireland and it is a very worrying development.
"Our native red squirrel population is under extreme pressure at the moment as a result of the population explosion of the grey.
"The diseased red squirrel was first spotted by members of the Tollymore Red Squirrel Group.
"We would ask the public across Northern Ireland to be vigilant and immediately report any red squirrels showing signs of the disease to the NIEA wildlife team or to a member of the NI Squirrel forum."
The decline of red squirrels in the UK is blamed primarily on the effects of squirrel pox as well as the loss of habitat and competition from grey squirrels.
A spokesperson for the Forest Service, which is a member of the NI Squirrel Forum said: "We are hoping that the early detection of the disease by the Tollymore Red Squirrel Group will help to limit the impact of this outbreak.
"We are continuing to work with NIEA and the Tollymore Red Squirrel Group on the implementation of control measures.''