Elbow, The Specials and Primal Scream for Belsonic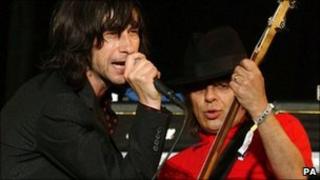 Elbow, The Specials and Primal Scream have been unveiled as headline acts for this summer's Belsonic festival.
The three groups join Dizzee Rascal and Plan B on the bill for the event which will be at Belfast's Custom House Square in August.
Primal Scream will perform their groundbreaking album, Screamadelica, winner of the first Mercury Music Prize, at their concert on 19 August.
It is the 20th anniversary of the album's release.
Manchester-based group Elbow have enjoyed mainstream success since the release of their fourth album The Seldom Seen Kid, which won the 2008 Mercury Music Prize.
They have embarked on a UK arena tour this year to support the release of new album, Build A Rocket Boys, and play Belsonic on 24 August.
The Specials were pioneers of the UK ska revival more than 30 years ago, and are renowned for hit singles including Ghost Town and Rat Race.
They performed a sell-out gig at St George's Market in Belfast in 2009 as part of their reunion tour and return to the city on 27 August.
Dizzee Rascal will headline Belsonic on 17 August.
His album, Tongue N' Cheek, is his most successful to date, yielding a series of UK number one singles.
Ben Drew, known as Plan B, is the main attraction on 25 August.
His hip-hop concept album, The Defamation Of Strickland Banks, was one of the top-selling releases of 2010 and he received the British Male Solo Artist gong at this year's Brit awards.
More details are available at the Belsonic festival website.