Kevin Crilly cleared of Captain Robert Nairac murder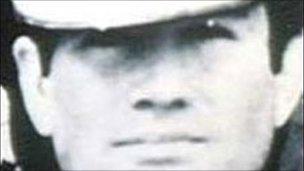 A County Armagh man has been cleared of the murder of undercover soldier Captain Robert Nairac 33 years ago.
Kevin Crilly, 60, from Lowerfoughill Road, Jonesborough, was accused of the murder of Captain Nairac between 13 and 16 May 1977.
The undercover soldier was abducted from a bar at Drumintee in south Armagh in May 1977 before being killed.
On Friday, a judge at Belfast Crown Court cleared Mr Crilly of involvement in the murder.
As well as the murder charge, Mr Crilly was cleared of four other charges, including kidnapping and false imprisonment.
Mr Justice Richard McLaughlin said that while it was clear Mr Crilly was present on the night and had picked up the man who murdered Captain Nairac - Liam Townson - it had not been proved he knew what was going to happen.
The judge also said forensic evidence did not establish Mr Crilly's guilt beyond doubt.
"The prosecution has not proved beyond reasonable doubt the state of knowledge or intention necessary to transform the transporting of (Liam) Townson (who was convicted of the murder) by Crilly to an unspecified place at an unspecified time into a knowing participation in a potential murder.
"For these reasons I find the accused not guilty," the judge said.
Mr Crilly had been living in America for nearly 30 years after the murder.
BBC Northern Ireland's Spotlight programme interviewed him in 2007.
Mr Justice Richard McLaughlin said: "The admissions by Crilly to the journalists from the Spotlight programme prove he was involved to some degree in the events surrounding the death of Captain Nairac.
"He was present at the Three Steps Inn where what he described as a 'battle' took place.
"This can only mean what he witnessed was the abduction of Captain Nairac but it does not prove his active participation in it."