Bid to twin Giant's Causeway's council with Gaza City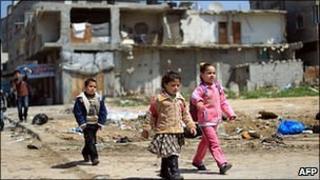 One of Northern Ireland's most picturesque areas is considering twinning with war-torn Gaza City.
Moyle District Council, home to tourist magnet the Giant's Causeway, has one of the lowest crime rates in the region.
At a council meeting this week, it agreed to the establishment of a twinning committee which would look at linking up with one of the most troubled areas of the world.
Last week, at least 10 Palestinians including several civilians and children were killed by Israeli attacks in the Gaza Strip.
During the same period, militants in Gaza fired more than 80 rockets and mortar shells into southern Israel.
Gaza City is the strip's biggest population centre and has about 400,000 inhabitants.
Independent councillor Padraig McShane put forward the motion for a twinning committee which was passed at a Moyle Council meeting on Monday.
He described the move as "historic" and stressed it was a "non-political and solely humanitarian" gesture.
Proposals he would like to see implemented as part of a "twinning agreement" include a Moyle peace park in Gaza City.
He also hopes to see a pilot project on the recycling of organic waste for agricultural use in Gaza, and training and visitor exchanges on issues such as urban planning and public space management.
"The Moyle-Gaza twinning group has committed itself to have Moyle council incur no costs to the ratepayer," he said.
"An 'in kind' contribution of human resources is all that the group requires with the monies to deliver humanitarian work being delivered by the group itself."
Mr McShane was with the "Antrim to Gaza" group which travelled to the strip last year as part of a major land convoy bringing humanitarian aid to civilians.
'World Cup'
"We took a van to Gaza last year with £57,000 worth of aid, as part of the convoy involving the group Viva Palestina," he added.
"The support when we arrived was unforgettable.
"I couldn't describe it to you, it was like winning a World Cup and coming home to massive celebrations, there were hundreds of thousands of people on the Egypt-Gaza border."
Mr McShane crossed 14 countries before arriving at Gaza, and said he had to spend 18 days in Syria before being allowed into Egypt.
And it appears he may face a number of obstacles before the twinning process is completed.
Chairman of Moyle District Council, Price McConaghy, said he was one of four councillors who voted against the proposal on Monday.
He said he had "sympathy" for the people of Gaza, but that the council "did not have the resources" to provide support.
"We are the smallest council in the UK and we have a high base rate," he added.
"It was agreed that it would not cost anything to the ratepayers, but that the Gaza group could use Moyle council to support their applications.
"The document of proposals has a space for the signature of the council chairman, and it would need changes made to it before I could sign it."