Protocol rules out US President Obama's NI visit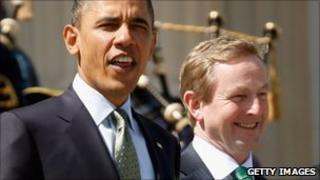 US President Barack Obama will not cross the border into Northern Ireland when he visits the Republic of Ireland, the Irish prime minister has said.
Enda Kenny said diplomatic protocol ruled out such border hopping.
President Obama would have to visit London first, before setting foot in Northern Ireland.
A large US delegation is expected to arrive in the Republic of Ireland at the end of May.
The date is just before Mr Obama travels to London for an official visit.
Mr Obama announced on St Patrick's Day at a meeting with Mr Kenny in the White House, that he would like to visit his ancestors' birthplace in Moneygall, County Offaly.
First Minister Peter Robinson and Deputy First Minister Martin McGuinness had raised the possibility of a visit to Northern Ireland with Mr Kenny.
But he said: "The problem actually is that the president, under existing protocol, is not allowed to go to Northern Ireland without first having to go to Britain.
"So if President Obama were to decide to go close to the border, actually from a protocol perspective, he is expected to go to London before he would go to Northern Ireland."
Although no official date has been announced, Mr Obama is expected to be in Ireland from Sunday 22 May to Tuesday 24 May.
A spokesman for the Foreign Office in London confirmed that for state visits, protocol dictates that a foreign leader must travel to London first, before visiting other areas of the UK.