Queen's University in staff funds warning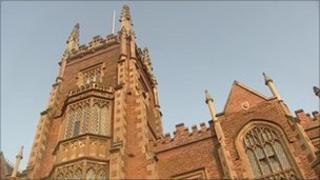 Queens University Belfast has told staff to start preparing for cuts to cover a possible multi-million pound shortfall in its budget.
However, it said it was not pressing for a top tuition fee of £9,000.
But lecturers unions, facing the possibility of hundreds of jobs losses, have accused the university of playing a political game.
No decision about student fees has yet been made in Northern Ireland.
Queen's University is a member of the Russell Group of universities which lobbied for and won an increase in tuition fees in England up to £9,000.
Options being considered in Northern Ireland range from the abolition of fees to increasing them to the top rate.
Queen's has given a presentation to MLAs detailing what could happen and painted a very bleak picture.
It said 750 jobs could go, academic departments could close, class sizes could get bigger and there could be a reduction in services to students.
However, the university admitted this was speculative and the worst case scenario.
Queen's says a £40m black hole in the budget could be covered by a number of means: from raising tuition fees to a bigger government contribution.
Professor Tony Gallagher of Queen's said: "If the assembly and executive find additional public investment for higher education then any fee increase could be kept low and it's possible to leave fees at exactly the level they're at now."
Unions are planning protest action next week and will be fighting any fee increase.
Jim McKeown of the University and Colleges Union said: "We see this paper from Queen's as an attempt to badger local politicians into increasing tuition fees.
"All of our local politicians voted against the hike in tuition fees at Westminster. We expect them to do the same here."
There was hope that an extra £51m in the budget might have plugged the university funding gap, but the Department of Employment and Learning has now confirmed that most of that extra money has been committed to college building projects.
The universities will get a total of £4m across the four years.