Ballymena company, Wrightbus, wins Olympic bus contract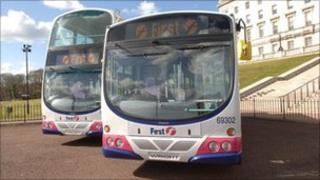 Ballymena company, Wrightbus, has won a contract worth more than £50m.
The order is from FirstGroup plc, which is spending about £160m upgrading its bus fleet.
FirstGroup is one of the biggest transport operators in the UK, and currently operates 8,000 buses. Most of the buses in the new order will be replacements for older vehicles.
Wrightbus managing director, Mark Nodder, said they will build about 450 buses over the next 18 months.
"We've been working on this contract for about the past six months," Mr Nodder said.
"We recently landed a similar-sized contract with Arriva, so put together these two contracts will be the foundation for our business over the next year."
He said that the vehicles would be a mixture of single-deck and double-deck buses.
"They're going into service in London, and in fact many of them will be used in contracts in support of the transportation for the Olympics, so that will give us a very high profile during that period."
Mr Nodder said he believed that business was starting to improve after what he said had been a "lean couple of years".
"I think the outlook is strengthening month by month," he added.
"But it's going to be another 12 to 18 months before we're back to what I would call normal service.
"However, the contract with Arriva and this latest one from Firstgroup are very good steps along the way."