DUP leader Peter Robinson: 'first everyday NI election'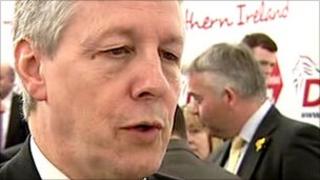 Northern Ireland is facing its first election where the main issues are everyday ones, DUP leader Peter Robinson has said.
Mr Robinson said he wanted to see a new society "where the divisions of the past are being eroded and our new society is taking root".
Launching the DUP's election campaign, he said he wanted everyone to be able to say they were proud to be from Northern Ireland, regardless of political outlook.
The DUP leader criticised the UUP over cuts, the SDLP over 50/50 police recruitment, the Alliance Party about water charges and Sinn Fein over education.
However, he added that he would not "promise the earth" and would be prepared in the future to support other parties' ideas if he decided they were good.
"We have created more jobs in the last four years than any time in Northern Ireland's history; there is more to be done because we're losing more jobs at the other end because of the recession," he said.
"We want to see more jobs; we're out to see tougher sentences particularly for those who attack the elderly; we're looking at issues such as how we can fix education and get a better health service; we're looking at how we can get a shared society with people working together in the assembly, and of course we want to ensure that we strengthen unionism as well."
TUV leader Jim Allister said the DUP offered "four more years of Sinn Fein veto, of whatever it takes to keep their disruptive partner happy, because power, any power, is the overriding imperative".