Ambulance damaged by thieves withdrawn from service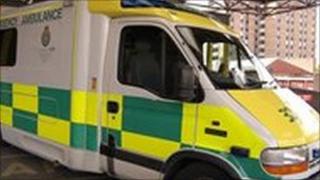 An ambulance has been taken out of service in County Londonderry after it was damaged by thieves who stole lifesaving drugs.
The break-in happened some time before 0500 BST on Tuesday while the vehicle was parked outside Magherafelt Ambulance Station.
A spare vehicle has replaced the ambulance until repairs and a forensic examination have been completed.
The drugs were later found dumped near the ambulance station.
Gareth Tumelty, the area manager with the Northern Ireland Ambulance Service, said the drugs had potent side-effects.
"These are potentially life-saving drugs but they are very dangerous if they fell into the wrong hands," he said.
He added that staff were shocked by what had happened.
"They live in the area. They know the impact that this will have," he said.
"It's delaying the ambulance response times. It's removing ambulances from the area and it could be their family who need that 999 ambulance."