NI corporation tax cut 'benefits all' - Owen Paterson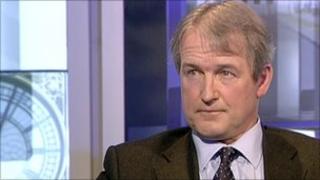 Reducing corporation tax in Northern Ireland could benefit English taxpayers too, Secretary of State Owen Paterson has said.
Mr Paterson told the NI Affairs Committee cutting the tax rate would eventually reduce the vast sums of public money Whitehall spends in NI.
Low rates of corporation tax are considered an important means of attracting overseas investment.
The overall UK rate is 26% while it is 12.5% in the Irish Republic.
A consultation paper on the case for giving the Northern Ireland Executive the power to alter the corporation tax rate was published last week.
On Wednesday, Mr Paterson told English MPs on the Westminster committee: "Your constituents are contributing to a massively higher rate of public spending in Northern Ireland - 25% more than your guys (constituents) get and mine get."
"The point I am making is Northern Ireland doesn't want to be dependent like this."
He added: "By giving them this tool we will grow the economy, we will grow tax revenues in Northern Ireland and we will reduce the dependency on the taxes of your constituents.
"I think we have a very valid case that our English constituents will gain."
He said their English constituents had "stood by" Northern Ireland through 40 years of violence.
"We've got to stand by Northern Ireland for a further stage, with this very special arrangement, to help Northern Ireland grow its economy and become self-sufficient," he added.