RIR Lance Corporal Stephen McKee's funeral held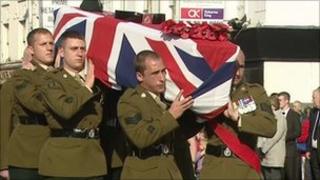 The funeral of a County Down soldier killed in Afghanistan earlier this month has taken place.
Lance Corporal Stephen McKee of 1st Battalion, The Royal Irish Regiment, died when his vehicle hit a roadside bomb in Helmand province.
His younger brother, who was serving alongside him, was one of the first to arrive on the scene.
Lance Corporal McKee was buried with full military honours at the New Cemetery in Banbridge.
Hundreds of people lined the streets outside Holy Trinity church in Banbridge to pay their respects to the soldier who was described as "a fierce warrior and true hero".
It is the second tragedy for the McKee family in a short time. Almost a year ago, Lance Corporal McKee's baby daughter died just a day after she was born.
Army chaplain Reverend Albert Jackson said they were now reunited.
"Do take comfort today in the fact that he has gone to be with his little baby girl Keeley."
The first minister attended the funeral and the Secretary of State, Owen Patterson, laid a wreath at the grave. In a statement he said Lance Corporal McKee had died defending freedom.
The dead soldier's brothers, father-in-law and cousin have all served with the Royal Irish Regiment.
Lance Corporal McKee joined 3rd Battalion, The Royal Irish Regiment, as a part-time soldier in 2003.
When the Home Service was disbanded he decided to transfer to 1st Battalion, The Royal Irish Regiment and joined them at Tern Hill, near Market Drayton in Shropshire, in April 2007.
Lt Col Colin Weir, commanding officer of the 1st Battalion, said his death had "sent a wave of shock and sadness through this battlegroup".