Tesco gets go-ahead for new Banbridge store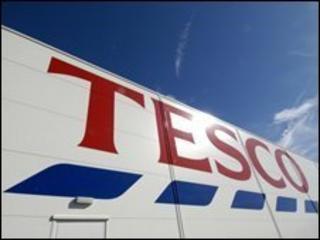 Supermarket giant Tesco has been given the go-ahead to build a large store near Banbridge after two previous planning applications were rejected.
The store will be slightly smaller than the retailer had hoped to build at the Bridgewater Retail Park but will still be one of the largest in NI.
It will be part of a development which will include retail warehouses and create hundreds of jobs.
Objectors had said the development would damage Banbridge town centre.
Tesco first submitted plans in 2007 and presented an amended scheme in 2008 which slightly reduced the size of the proposed store.
In December 2009, plans to build the largest Tesco store in Ireland, close to Banbridge, were rejected for a second time.
Announcing plans for the development, Environment Minister Edwin Poots said it was "great news for Banbridge".
'Process blocked'
He said later that the delay had been the result of legal moves.
"Obviously other interests and other businesses became involved in a number of judicial reviews and as a consequence of that, the planning process has been blocked by the courts," he said.
"It has now gone to a public inquiry in June and I would trust that that decision will come forward thereafter and that the courts will not interfere further in that decision and that those who have engaged lawyers to block this would cease doing so."
However, the Northern Ireland Retail Traders Association reacted angrily to the announcement.
Chief Executive Glyn Roberts warned Banbridge could end up as a "tumbleweed town".
"It's not good news," he said.
"I think it's a very bad decision and effectively it is the last decision of this outgoing environment minister to give Banbridge town centre and its traders a P45.
"We need to nail this myth about all these jobs that they are bringing. These jobs will be displaced or destroyed jobs from Banbridge town centre.
"I think that this is a hammer blow for Banbridge."
The SDLP's Dolores Kelly said the store was a double-edged sword.
"Any investment in terms of bringing job is to welcomed during these economic times," she said.
"But the commitments made by Tesco in relation to the traders and in terms of the multi-story car park must be followed up on."
Sinn Fein's John O'Dowd said his party was not convinced that a food retail expansion outside Banbridge town centre would create new jobs.
'Potential impact'
"Studies into retail show that such developments as that granted by Minister Poots actually displace existing jobs which are not always replaced with jobs of as similar economic value to society," he said.
Ulster Unionist councillor Jo-Anne Dobson welcomed the creation of new jobs but warned of the potential impact on Banbridge town centre.
"Efforts must be made to ensure that the development of this Tesco store will act as a magnet to draw people into the town rather than push them away," Ms Dobson said.
Alliance Party representative Sheila McQuaid welcomed the news.
"It brings with it the prospect of many new jobs for the area and also a very significant rates boost for Banbridge District Council and all its people," she said.
The TUV's David Vance said: "TUV welcomes the much-needed additional employment this may create in Banbridge, but we are concerned that once again we see a vibrant town centre put under severe threat through lack of coherent strategy on the part of the environment minister."
Brian Wilson of the Green Party described the move as a "real kick in the teeth" for small independent traders in the town.
"While Tesco has said it will create hundreds of new jobs, experience has shown that for every job created in out of town superstores, one-and-a-half jobs are lost in the town centre of nearby towns," he said.