240 NI fans to watch Serbia Euro 2012 game in Belgrade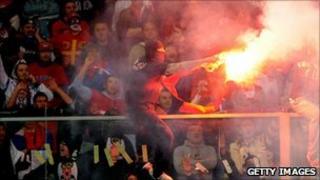 Two hundred and forty Northern Ireland fans will be the only supporters inside the Red Star Stadium in Belgrade for Friday night's Euro 2012 qualifier.
The game is being played behind closed doors after trouble flared at Serbia's game in Italy in October.
However, Uefa has given special dispensation for the 240 Northern Ireland fans to attend.
The Foreign Office has warned NI fans who do not have tickets not to travel to the Serbian capital.
The FO advised: "All supporters will be searched prior to entering the stadium and items that could potentially be used as missiles will be confiscated, such as lighters or large amounts of coins.
"There will be a visible police presence in and around the stadium. Police may be in riot gear, however, they will only wear protective helmets if trouble breaks out."
Radio Ulster commentator Joel Taggart is in Serbia with the team and said the situation there could help Northern Ireland secure a victory.
"This is a stadium that holds 55,000 people. The players went to train there last night and they would have got an idea what the empty stadium will be like," he said.
"The players have been playing it down. They say when a match kicks off they tend to shut these things out anyway.
"But I think it has to help. You come to a lot of these countries and there's passion.
"We've been to Poland recently, we've been to Montenegro and the passion from the fans and the noise that they make is tremendous.
"The fact that you're not up against that, as well as what will be a very good Serbian team, has to be a positive."
Northern Ireland have had a mixed start in the qualifying campaign, beating Slovenia, drawing with Italy and then the Faroe Islands in their last competitive outing.
They currently lie fourth in the Group C table.
Uefa awarded Italy a 3-0 win over Serbia after the 12 October 2010 match, which was stopped in the seventh minute with the score 0-0.
Serbian fans had been fighting with police and rival fans before the match, and continued to cause trouble inside the stadium.
They threw fireworks onto the pitch and tried to scale security barriers keeping the fans apart.