Derry kidney donor father and daughter recovering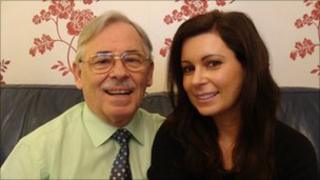 A 73-year-old Eglinton man and his daughter are recovering at home after she donated a kidney to him.
Robert Smyth, who had renal illness for 40 years, was given one of Iilona Neilson's kidneys two weeks ago.
"My doctor said my kidney was working so well it's probably better than hers," he said.
Mrs Neilson is also doing well, and she said the operation had brought them even closer together.
Mr Smyth said he still had problems but he never felt "down" at any time.
"I have a lot of pain. One of the side effects is the trembling hands and I have to travel to Belfast twice a week to make sure the kidney is not rejected."
Mrs Neilson said the moment she had to say goodbye to her husband and she was wheeled into the operating theatre was when she realised what she was actually doing.
"Talk is cheap. It's OK to say I will do this and I will do that for someone but when you are lying on the bed and you look around and you do not know anybody it becomes very very real."
The first 24 hours after the operation were "horrendous", she said.
"It's like if you get hit by a double decker bus. That's the only way I could describe it."
Nurses told her they kept her light on overnight so that they could keep an eye on her.
Mr Smyth said he was still feeling pain, but his surgeons were happy with his recovery.
"Since then I have seen certain changes in my lifestyle, or feelings, that have improved. I'm sleeping much better than before."
Mrs Neilson joked her father was "a lot nicer" since the operation, and she hoped it would last.
"I was always nice to her," he said. "She is my precious, beautiful daughter."