Belfast Holyland group highlights anti-social behaviour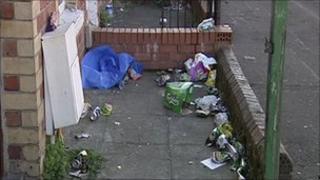 A delegation from the Holyland area of Belfast will meet Justice Minister David Ford later on Wednesday.
They will discuss serious anti-social behaviour in the area.
The Belfast Holyland Regeneration Association said that, although St Patrick's Day was hailed as a success by some groups, it was still an "unpleasant" experience for residents.
The association is worried that the summer months will bring more outside drinking and anti-social behaviour.
Ray Farley is leading the delegation to meet Mr Ford.
"What happened two years ago is really held up as the bench mark, which was that there was riot," he said.
"From what I can gather, if there is not a riot then it is looked on as being quite a successful day, as far as the authorities are concerned."
Mr Farley said although this year's celebrations were a lot quieter than in previous years, the area was still left in an "awful mess".
"One of the problems is that there are too many people in the area," he said.
"What we would like is the justice minister to maybe look at a ban on people drinking in their front gardens at certain times of the year.
"There is also talk about setting up a disorder zone which would allow extra powers to the PSNI, perhaps to close off licenses or to actually shepherd people out and really ban alcohol abuse in some areas."
Mr Farley said the ongoing anti-social problems in the Holyland are "very frustrating" for people who live there.
"We do feel as if we have been going round and round in circles for years.
"It is really from Sunday night when people arrive back, until Thursday evening and it just goes on constantly night after night."