Hazel Stewart's family protest her innocence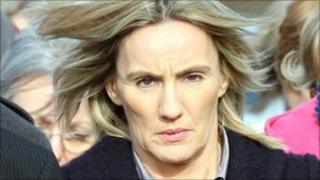 The children of a woman convicted of murdering their father have said they cannot accept she is guilty.
Hazel Stewart, 49, was sentenced to life in prison for the murders of Leslie Howell and Trevor Buchanan.
Now, her children have said they are devastated at having their mother "vanish from their lives".
"We lost our dad, this nearly feels like we are going to lose our mum," said her son, Andrew.
Stewart's former lover Colin Howell pleaded guilty to the double murder last year and is serving a life sentence.
The bodies of Mr Buchanan and Mrs Howell were discovered in a fume-filled car in Castlerock in May 1991.
At the time it was thought to have been a double suicide - the truth only emerged in January 2009, when Colin Howell confessed to murdering his wife and Stewart's husband.
Stewart's trial heard that she played a part in the planning of the killings and disposed of evidence. She was unanimously convicted by a jury of the double murder.
In an exclusive interview for BBC NI's Spotlight broadcast on Tuesday, Stewart's two children, Lisa and Andrew, and her second husband, David, talked about their refusal to accept her guilt.
Lisa was almost nine years old and Andrew was seven when their father, Trevor, was killed.
"We love our father and our mother," said Andrew.
"We are not taking any sides. We would not have wanted what happened to our dad ever to happen. But we lost our dad and this nearly feels like we are going to lose our mum... We can't move on. This is the beginning for us of our lives, trying to adapt to what is going to happen."
Both children told Spotlight reporter Mandy McAuley about how they felt when the guilty verdict was delivered.
Lisa said she felt: "Just sick... it was an awful, awful moment."
Andrew said he felt a strong sense of disbelief: "Did I actually hear that? I just could not believe it. Just disbelief."
Tuesday's Spotlight also reflects on the pain felt by all the victims of this story - including the suffering of Trevor Buchanan's brothers and sisters and Leslie Howell's family.
In his interview, Hazel Stewart's husband, David, a former chief superintendent, talked about how aware he is of their devastation and loss.
He also refused to accept the verdict. He is convinced his wife was manipulated and controlled by Colin Howell. She was like a "frightened rabbit", he said.
He is determined to stand by his wife and said he worked hard to find out exactly what happened.
"I had no doubt that I had to know what happened. It was not going to be a comfortable 'I didn't do it, David' and I accepted that. That is not how I think I question things and have to understand.
"Over a period of at least a month, maybe longer, I asked Hazel questions. I am not going to say it was relentless. It might have been 10 minutes one day, it might have been an hour another day...But I asked her every questions in every area that I could think of to get to the truth."
Mandy McAuley said it was clear that the children involved in this case had reacted very differently.
"While Lesley Howell's children, Daniel and Lauren have accepted their father's guilt. Hazel's children, Lisa and Andrew cannot," she said.
"In the interviews I carried out with Andrew and Lisa, there is a sense of denial that the mother who they love so much, who raised them after their father's death, with whom they share an unbreakable bond, is capable of the crimes she is convicted of."
Ms McAuley said that while Trevor Buchanan's brothers and sisters felt relief at the verdict, Andrew and Lisa felt devastated.
Hazel Stewart was told last week that she must serve a minimum of 18 years in jail.
In his six-page judgement, Mr Justice Hart said she did not have a spark of compassion for her husband while he was being murdered by Colin Howell.
The judge said Stewart had not been a passive onlooker, but "an active participant in the double murders," albeit to a lesser extent than Colin Howell.
"Whilst she knew Howell was murdering her husband in another room, she waited and did nothing to save his life," the judge said.
"Had she had a spark of compassion for her husband, even at that late stage, she would have tried to prevent his murder."
The judge said Hazel Stewart was entitled to some reduction in sentence compared to Howell's because he planned and carried out both murders and persuaded her to take part.
"I consider that she has expressed little real remorse for what she did, rather the sorrow and regret which she expressed to the police was largely because of the situation in which she found herself, and not for the events in which she played her part," he said.
It is understood that Hazel Stewart's lawyers are planning to lodge an appeal against her conviction.