Civil rights activist Rev Jesse Jackson visits NI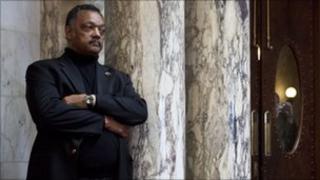 Reverend Jesse Jackson, the American civil rights activist, has begun a two-day visit to Northern Ireland.
On Saturday afternoon he was in Belfast to meet victims of the troubles from both communities.
Later in the day, he visited St George's Boxing inter-community club in Sussex Place to meet supporters and young boxers.
On Sunday, Rev Jackson will travel to Londonderry for a further series of engagements.