Man with Down's syndrome becomes first to pass driving test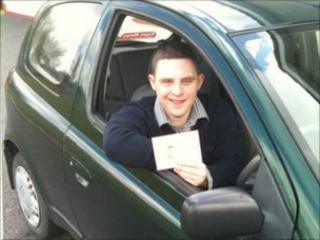 A special Olympic gold medallist has become the first person with Down's Syndrome to pass his driving test in Ireland.
William Loughnane, 26, from Clooney-Quin, County Clare passed first time after just five lessons.
"My dad was my main help. He taught me the basics before taking the lessons," he said.
"It makes a big difference. I'm more independent now."
William, who picked up six gold medals at the Special Olympics in China in 2007, is the first person with Down's Syndrome to hold a full driving licence in Ireland.
He has been inundated with phone calls from the media since passing his test. But he said he has often been unable to answer his phone because he is too busy giving his friends and family lifts.
"Everyone has been so supportive of me. All my family and my driving instructor, Alicia Maguire. She was a big help.
"I have a Toyota Yaris. It's a lovely car. I give everyone lifts. I have to return the favour."
William also revealed having a car makes the commute to his job at a Centra store in Ennis a lot easier.
"I live in the countryside and I have to go into the town to go to work.
"It's all good."