St Patrick's Day arrests fall in Belfast Holyland in 2011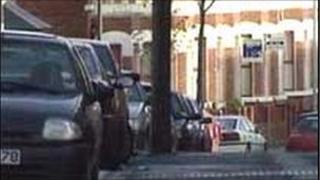 St Patrick's Day passed off largely without incident in Belfast's Holyland area, home to thousands of students.
Police said eight people were arrested, substantially less than previous years.
On past St Patrick's Days there had been large-scale rioting in the area with dozens of students subsequently expelled or suspended.
SDLP MLA Conall McDevitt said the situation still remained intolerable for local residents.
"It is still an entirely unacceptable situation," he said.
Mr McDevitt commended the police, the universities and community representatives for ensuring major episodes of violence did not break out.
However he said: "I have seen a lot of people abuse their liberties. I have seen a lot of people break the law and I have seen very little respect for the community here."
A police spokesperson said he was "conscious that many of the longer term issues faced by Holyland residents remain".
He said police "will continue to address anti-social behaviour and on-street drinking".
Queen's University Pro Vice-Chancellor Professor Tony Gallagher thanked volunteers who worked in the Holyland on St Patrick's Day.
"While the day posed significant challenges, it passed without serious incident and the work of Queen's and other volunteers went a long way to ensuring this," he said.
"Despite this, the lives of the residents of the area were affected and I want to apologise for any upset and disruption that was caused."