USPCA investigates horse cruelty at County Antrim farm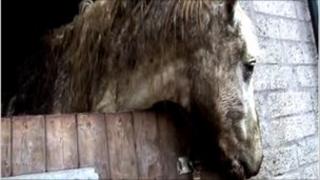 The USPCA is investigating a case of horse cruelty at a farm in County Antrim.
The animal welfare organisation was called in by the PSNI.
Three horses were found dead and nearly 40 others were living in appalling conditions.
In one barn, three horses were living and sleeping in about three inches of dirt and had no access to water or fresh hay.
In another barn, a horse was walking around knee-deep in faeces and muck.
Opposite it, in a separate enclosure, lay the corpse of another horse which the USPCA said may have died up to a week ago.
Banging and neighing was coming from stone buildings close by.
In them were eight horses, many covered in muck. The colour of one horse could only be identified by its nose.
The banging was from a stallion, which was kicking at a door in an attempt to get out.
In another part of the farm, 20 horses grazed in a field. From a distance, it appeared to be a typical rural scene.
But on closer inspection, the USPCA found all of them were suffering from a lack of proper food and water.
Behind this field lay another grisly and horrific scene.
It was clear from the smell that infected the air that what was inside was not good.
On the ground was a mound of hay and plastic. When it was removed, and the rats and mice had scurried away, two dead and rotting horses were uncovered.
The USPCA says they had been dead for about a month. One horse and two donkeys were removed from the farm by the USPCA. It was unable to remove anymore because the animals were too stressed.
But the organisation intends to return later on Thursday with extra help to remove the horses in the worst condition.
The owner has been given three days to comply with strict USPCA management guidelines. If that doesn't happen, the rest will be removed.