Three council employees in Northern Ireland paid £100k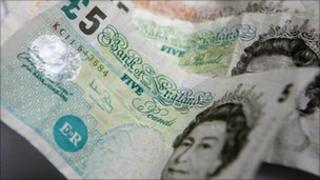 Three council employees in NI received more than £100,000 last year, according to the Taxpayers' Alliance Town Hall Rich List 2011.
Belfast City Council chief executive, Peter McNaney, was paid £124,129, which included a salary of £122,000.
Norman Dunn, who retired as Newtownabbey Council chief executive last March, was paid £101,948 in the 12 months before he left.
An unspecified member of Derry City Council got a payout of £110,180.
A spokesperson for Derry City Council explained that the figure was paid to a senior member of staff who left the organisation under voluntary severance arrangements.
"The payment of the statutory and enhanced redundancy packages payment of £62, 592.44 is in keeping with the Council's redundancy policy", she said.
Derry City Council is, however, in the process of recruiting a new town clerk and chief executive following the resignation of Valerie Watts. The council has announced the role will have a salary of over £100,000.
The council spokesperson said: "The new salary level reflects the scale of responsibilities associated with the role and the progressive plans for the city over the coming years."
As well as receiving a salary of £122,000, Belfast City Council's Mr McNaney got car allowances of £1,518 and £610 in expenses.
'Robust'
In 2008-09, two other Belfast City Council employees, had also received more than £100,000.
Former Newtownabbey Council chief executive, Norman Dunn, received basic pay of £90,957 before his exit, as well as £6,357 in holiday pay, £783 in expenses and £3,850 in other allowances.
The Town Hall Rich List reveals 2,295 council employees received renumeration in excess of £100,000 in 2009/10.
This was an increase of 18% on the previous year's figure of 1,941.
Forty-eight council employees in the UK received remuneration of more than £250,000 in 2009/10, compared to 19 in 2008/09.
Matthew Sinclair of the Taxpayers' Alliance said ratepayers would be "staggered that so many council employees are still getting such a generous deal".
He said councils should be "scouring every inch of their expenditure to identify savings".
In a statement, Belfast City Council said the salary scale of its chief executive "was based on the scales set by the joint negotiating committee for chief executives of local authorities in NI and a robust and independent job evaluation exercise".
"Unlike other senior posts in the public sector, Belfast City Council's chief executive does not receive a bonus or performance pay and there has been no salary increase for the past two years," the statement added.
It said the council believed "that it is right that top pay in local government is subject to public scrutiny and is satisfied that the salary scale for its chief executive has been set in a fair, transparent and independent manner".
The BBC contacted Newtownabbey Borough Council on Thursday, but no-one was available for comment.
Arnold Hatch of the Northern Ireland Local Government Association said salaries were the decision of councils.
He said "there is a small pool to draw from" and higher pay could be necessary to "attract the right person".