Cork crash plane 'had no faults'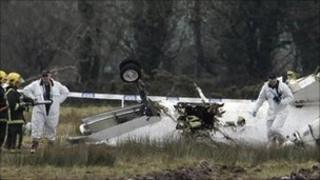 An interim report into last month's plane crash in thick fog in Cork has found no faults with the aircraft or the airport landing systems.
Six people died when the Manx2 airline plane crashed on approach to Cork Airport while on a flight from Belfast.
The report found that the plane's right wing-tip made contact with the runway on its final landing approach.
Irish air accident investigators said they were still trying to establish why the flight crashed on February 10.
Investigator Leo Murray said he has not yet identified any failures in the airframe, systems or power plants during the flight or at the airfield.
"The factors which resulted in the loss of control are being examined," he said.
The experience of Spanish pilot Jordi Gola Lopez, 31, and his English co-pilot, Andrew Cantle, 27, from Sunderland, are forming part of the investigation.
The aircraft was not equipped with an auto-pilot facility.
The Air Accident Investigation Unit revealed that the pilots had tried to abort their third and fatal landing attempt.
Rapid roll
A alarm, believed to be the stall warning horn, sounded during the last seven seconds of the cockpit voice recording.
Four seconds before the plane crashed, the co-pilot was also heard calling, "go round" which was acknowledged by the pilot.
The report continued: "Recorded data shows that the aircraft rolled significantly to the left as the aircraft tracked towards the runway centreline.
"This was immediately followed by a rapid roll to the right which brought the right-wing tip into contact with the runway surface."
The aircraft hit the runway with a roll angle of 97 degrees to the right, flipped over and landed on grass where it caught fire.
Victims of the crash included Brendan McAleese, 39, a businessman in Co Tyrone; Pat Cullinan, 45, a partner in leading accountancy firm KPMG in Belfast; Captain Michael Evans, 51, deputy harbour master in Belfast; and Richard Noble, a 49-year-old businessman who was originally from Yorkshire but lived in Northern Ireland.
Mr McAleese was a cousin of Dr Martin McAleese, husband of Ireland's President Mary McAleese.