Stewart did not have a spark of compassion for husband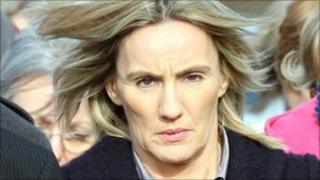 Hazel Stewart did not have a spark of compassion for her husband while he was being murdered by Colin Howell, trial judge Mr Justice Hart said in his six-page judgement.
The judge said Stewart had not been a passive onlooker, but "an active participant in the double murders," albeit to a lesser extent than Colin Howell.
Detailing her part in the killings, the judge said Stewart:
Knew what Howell proposed to do but she did nothing beforehand to prevent the murders from being carried out.
She knew she had to ensure her husband was sedated and admitted that she encouraged him to take a tablet that night when he said that he had difficulty in sleeping;
She knew that she had to open the garage door to let Howell in and she did so;
She let him into her house and did virtually nothing to dissuade him from murdering her husband;
She knew as he went into the bedroom that he had already murdered his wife and was now going to murder her husband, yet she did nothing to prevent him;
She provided Howell with clothes so that he could dress her husband's body;
She cut up and burnt the hose which Howell used to kill her husband and washed the bedclothes in order to destroy evidence;
She concealed what had happened from the police and provided them with a false account given to her by Howell designed to mislead the police and cover up the crimes.
"Whilst she knew Howell was murdering her husband in another room, she waited and did nothing to save his life," Mr Justice Hart said.
"Had she had a spark of compassion for her husband, even at that late stage, she would have tried to prevent his murder."
"She also benefited financially from her husband's death but the prosecution accepted that this was not to the same extent as Howell did."
The judge said Hazel Stewart was entitled to some reduction in sentence compared to Howell's because he planned and carried out both murders and persuaded her to take part.
Stewart, however, could claim any reduction in the minimum term in her case because she pleaded not guilty.
"I consider that she has expressed little real remorse for what she did, rather the sorrow and regret which she expressed to the police was largely because of the situation in which she found herself, and not for the events in which she played her part," he said.
Mr Justice Hart considered that Hazel Stewart was infatuated with Colin Howell who was "undoubtedly a charismatic, manipulative, hypocritical man with a very considerable sexual appetite".
He said he believed she was initially attracted to Howell because he offered the excitement she felt her marriage lacked.
"She then fell in love with him, and was driven by that love, and by intense sexual desire, to allow herself to be persuaded by Howell to play her part in these dreadful crimes, despite her fear that they would be caught, a part which she then concealed for many years.
"Despite her protestations to the police that she was controlled by Howell, his unchallenged evidence during the trial was that they continued their clandestine and highly active sexual relationship for several years after the murders, and even after she refused to marry him and they decided to end their relationship Stewart tried to persuade him to have sex."
Taking all of the factors into account, Mr Justice Hart concluded that the minimum term that Hazel Stewart should serve before she could be considered for release was one of eighteen years.