Man found guilty of Geoff Kerr murder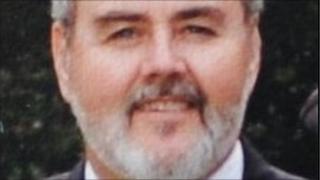 A 35-year-old Antrim man has been found guilty of the April 2009 murder of Geoff Kerr.
Mr Kerr, who was 60, was shot dead at his home in Templepatrick during an attempted robbery.
Darren Kernohan, 35, of Moss Drive, was given a life sentence, with the minimum tariff to be set next month
He had admitted firing the fatal shot, but had claimed he had done so accidentally during a struggle with the victim.
However, the jury at Belfast Crown Court rejected this and found him guilty on Tuesday.
Mr Justice Hart told him: "The law requires and permits one sentence to be imposed in relation to a charge of murder, that's one of life imprisonment and I sentence you to life imprisonment."
Last week, Martin Fleming, 51, of Churchill Road in Larne, pleaded guilty to the murder and was jailed for life.
During the six-day hearing the jury of nine men and three women heard how Kernohan and Fleming forced their way into Mr Kerr's home on 27 April 2009 to steal his seven legally-held guns.
However, Mr Kerr tackled Kernohan and was hitting him on the head with a heavy antique soup dish when Kernohan shot him once through the heart, killing him almost instantly.
Three other accused had previously admitted lesser offences connected to the murder of the father of four, who was a financial advisor and gun enthusiast.
Speaking to the BBC after the verdict, Mr Kerr's widow Sally said she did not "intend to spend one more second of my life" thinking about her husband's killer.
"The immediate future I have to say seems very bleak from where I'm sat," she said.
"I wanted ultimately to hear a jury of his peers pronounce Kernohan guilty, that is what I really wanted.
"True justice would be that somebody could do something in some way to restore Geoff to me, obviously that's not going to happen
"I do take some comfort from the knowledge that these people will be out of circulation for some years to come."