Jedward's Belfast gig postponed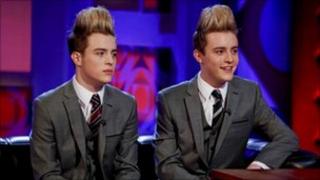 Jedward's April concert at Belfast's Waterfront Hall has been postponed, according to the duo's tour promoter.
The Bad Behaviour Tour was supposed to arrive in Belfast on 26 April.
The twins' tour promoter, Pat Egan, said that due to "complications over the availability of the date" Jedward have been forced to cancel the concert until a new date can be found.
Tickets for the Belfast date will be refunded at the point of purchase.
Jedward and Mr Egan sincerely apologised to their fans for the postponement. They said the decision was taken "despite repeated attempts to resolve" the situation.
A new date is expected to be announced in the near future.