Peter Robinson and Martin McGuinness meet US President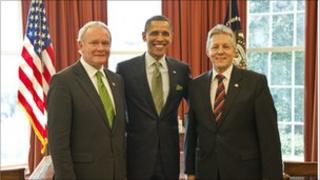 Northern Ireland's first and deputy first ministers have met US President Barack Obama in Washington.
Peter Robinson and Martin McGuiness met the President at the White House on Thursday.
"He reaffirmed his support and ongoing commitment and that of his administration to the development of the NI economy," Mr Robinson said.
"He was keen to hear of progress since the devolution of policing and justice powers."
"We thanked him for his continued support and pressed on him the importance of inward investment as we strive to deliver a stable society, bolstered by economic growth."
Mr McGuinness said: "As we come to the end of the first full uninterrupted Assembly term, we outlined to the President the progress we have made, the challenges we face and our commitment that we would continue to move forward.
"It would be a tremendous boost if he was able to pay an official visit before the end of this term. Such a visit would further cement the great relationship we've enjoyed with successive US administrations during recent years."
The NI leaders' first official engagement was a congressional breakfast hosted by Congressman Peter King on Wednesday.
They also spoke to senators about the International Fund for Ireland.
They attended a business event hosted by US Economic Envoy Declan Kelly and the US Chamber of Commerce.
On St Patrick's Day, meetings were planned with the President and US Secretary of State Hillary Clinton.