New parking charges are planned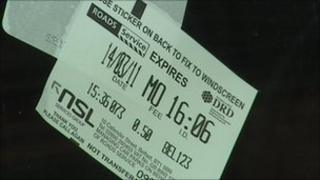 The Department for Regional Development is planning to raise millions of pounds in revenue by increasing car parking charges.
Thirty towns could have to start paying for parking for the first time. Fines for parking illegally may go up to as much as £90.
Currently only three cities in Northern Ireland have on-street parking charges - Newry, Lisburn and Belfast.
The proposal is for these charges to be extended to 30 other towns and cities.
The charges could be implemented as early as next year.
Not only would more people pay for parking, there is also a plan to have them paying for longer.
Currently people have to pay to use the spaces from 0800 GMT until 1800 GMT. It is understood how much this would be raised by is still being debated.
Ulster Unionist assembly member David McNarry opposes the changes.
"I don't think the public are going to stand for this. How long are we going to clobber them?" he said.
"Car insurance is up, fuel prices for petrol and diesel are up - it's horrific."
"Now we want to penalise people who are going to do shopping and if we penalise the motorist, we're actually going to penalise the small retailer who they are going to do business with."
At the moment the fine for falling foul of parking regulations is £60, reduced to £30 if paid within 14 days.
The proposal is to put this fine up to £90.
SDLP MLA Conall McDevitt, said he would back the planned charges if the was an overhaul of the public transport system.
"There's no question that we need to take control of parking in our city centres.
"The problem with the minister's suggestion is that whilst on the one hand he is trying to take control of parking on the other hand he is making no further investment in public transport."
The Department for Regional Development hopes to raise £37.5m over the next four years from extra car parking charges.