Public Prosecution Service says no charges for Iris Robinson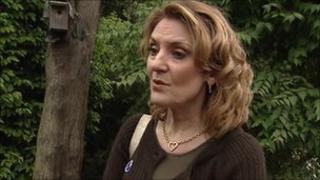 The Public Prosecution Service (PPS) has announced that former DUP MP Iris Robinson will not face charges over her role in helping her ex-lover, Kirk McCambley, set up a business.
The DPP said it would not be bringing a case against the wife of First Minister Peter Robinson.
The BBC's Spotlight programme revealed that Mrs Robinson was having an affair with Mr McCambley, and that she asked two property developers for £50,000 to help him set up a cafe on the banks of the River Lagan.
Mrs Robinson did not declare her dealings at Stormont or Westminster and failed to declare her interest when her young lover was awarded the cafe lease by Castlereagh council.
Mr McCambley told Spotlight that Mrs Robinson had asked him for a £5,000 cut of the developer's money in cash.
After the broadcast, she resigned as an MP, MLA and Castlereagh councillor.
The PSNI's organised crime branch, which specialises in financial investigations, launched an investigation in January 2010.
A file was sent to the public prosecution service earlier this year.
On Friday, the PPS confirmed that the former MP would not face criminal charges.
'Public importance'
In a statement, it said "following careful consideration of all the available evidence, a decision has been taken not to prosecute in this case".
In its own statement in response to that decision, the BBC said it "stands by its journalism".
It said the issues Spotlight uncovered during its investigation of several months into Iris Robinson were of significant public interest and were well-sourced, and that the BBC conducted its investigations in compliance with strict editorial guidelines. The statement added that the programme was a piece of responsible journalism and a matter of public importance.
The BBC said it was confident that the report was balanced and accurate, and that at the time, the Robinsons were made aware of the allegations and were given appropriate rights of reply.
A spokesperson for the Robinson family released the following statement:
"We note the decision of the Public Prosecution Service," it said.
"In the year since the Spotlight programme with the police investigation and Council investigation ongoing we have amassed substantial material demonstrating serious and damaging inaccuracies in the BBC Spotlight programme.
"Mrs Robinson will be making, through her solicitor, a detailed statement following the publication of the report commissioned by the Council and all legal options are now under active consideration."