St Matthew's Church in Short Strand targeted by vandals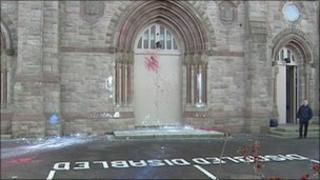 A Catholic church in east Belfast has been the target of a sectarian attack for the second time in a week.
St Matthew's on the Newtownards Road was splashed with red, white and blue paint in an overnight attack.
Last week, it was daubed with sectarian graffiti linked to a row at the Rangers v Celtic football match at the weekend
That had just been washed off the walls before the latest attack. Mass-goers going into the church on Ash Wednesday were shocked by what they saw.
They blamed a small number of people for the attacks and said families on both sides of the lower Newtonards Road interface want them to stop.
Police investigating the incident will check CCTV footage in a bid to identify those responsible.
Security
Parish worker Willie Ward said that if the attacks continued, it might be necessary to make the church grounds more secure.
"If it continues, we are going to have to look at the security of this church again," he said.
"We did remove all the security, the barbed wire that was there through the troubles, to try make the front of the church more pleasing to people living on both sides here."
East Belfast MLA Dawn Purvis said she condemned the attack, "in the strongest possible terms".
"This is particularly awful as the churchgoers mark the start of Lent today, Ash Wednesday," she said.
"Many, including local schoolchildren, will be attending church today and wondering why anyone would attack their church. They should know that the rest of the community support them."
Sinn Fein's Niall O Donnghaile said: "Those behind the attacks are a minority within their community and representatives from throughout east Belfast have been proactive in making it very clear that nobody, whatever side of the interface they live on, wants or support these attacks."
The SDLP's Seamas de Faoite said the attack was "extremely disappointing".
"People were disgusted at the sectarian graffiti daubed on the church last week and are disgusted once again this morning," he said.
"Thankfully, the majority of people see this as what it is, people with nothing to offer east Belfast trying to stir up tensions and hate."
Máire Hendron of the Alliance Party said the attack was a "disgrace".
"This nonsense has to stop now - we are all sick of it across east Belfast," she said.
Ulster Unionist Lord Empey said he was "shocked that last week's despicable actions have been repeated".
"No-one in our community should tolerate this type of behaviour, nor should they support it," he said.