Belfast hotels claim City Hall competing unfairly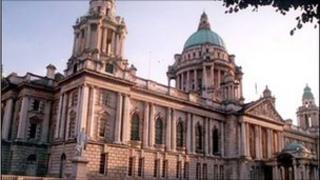 Hotels in Belfast have accused the city council of unfairly competing against them by allowing the City Hall to be used as a free venue for functions.
The NI Hotels Federation highlighted its concerns in a letter to the council about its use of the City Hall since it re-opened 18-months ago.
It said its use for functions without charging for room hire was competing directly against hotels.
The City Hall hosted 600 events last year.
The council has said commercial events are not permitted and many of the organisations which use City Hall are charities.
However, others who have held large functions at it recently include, business organisations such the Institute of Directors, the NI Chamber of Commerce, the Federation of Small Businesses and the Pubs of Ulster.
'Uncompetitive'
Janice Gault, chief executive of the Northern Ireland Hotels Federation, said they had been advised by some event organisers that they had gone to City Hall because there was no room charge.
She said the federation had no problem with City Hall being used by charities or to promote tourism, but was concerned by other functions which would be traditionally staged in hotels.
"We've had a look at every other city in the UK, for example Glasgow which is a comparable city," she said.
"The events that take place in Glasgow City Hall are lord provost's - which are his hospitality - charitable events and council business.
"All other things are done on a commercial basis in other buildings."
The council, said it did not permit commercial functions, but was reviewing the use of the City Hall.
A council spokesperson said the council provided £1.8m to support the marketing of Belfast through the Belfast Visitor and convention Bureau.
"A major part of the work is promoting Belfast as a city break destination which clearly benefits all our hotels," the spokesperson said.
"In addition, Belfast City Council has worked hard with others to bring major events to the city, such as MTV, which has resulted in hotel accommodation being booked out across the city."