Royal couple visit NI in run-up to April wedding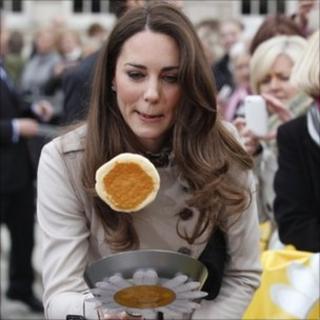 Prince William and Kate Middleton have completed a number of engagements on a one-day trip to Northern Ireland.
The couple, who are getting married in April, began at Belfast City Hall where they met Lord Mayor Pat Convery.
After visiting a youth charity in the city, they had lunch with NI Secretary Owen Paterson at Hillsborough Castle.
They completed their engagements with a visit to Greenmount Agricultural College near Antrim.
It is the couple's first visit to Northern Ireland.
Security considerations meant there was no pre-visit announcement by Buckingham Palace and the Northern Ireland Office.
After meeting a waiting crowd of about 100 people at City Hall in the morning, the pair met representatives of the Northern Ireland Cancer Fund for Children who invited them both to toss a pancake.
Miss Middleton, 29, was handed a frying pan by Prince William and told to "have a go".
She wore a double-breasted belted coat with a frill at the hem, black opaque tights and high-heeled shoes.
Housewife Heather Lindsay from Killyleagh, County Down, whose daughter Laura Ann is also getting married this year, brought "bride" and "groom" caps, hoping to get Prince William to wear one.
"He politely declined," she said.
"I told Kate I am also planning for a big wedding as well. I told her not to lose any more weight. She laughed and said it was all part of the wedding planning."
The couple then visited the headquarters of Youth Action NI, an organisation that offers opportunities in performing arts and apprenticeships to young people in disadvantaged areas.
They watched a performance by Youth Action's Rainbow Factory School of Performing Arts and met young actors.
They also presented certificates to young apprentices.
At Hillsborough, the royal couple met dozens of wellwishers before lunch with Mr Paterson.
Christine Sneeringer, from Miami, Florida, was having lunch with family and friends in a nearby restaurant when she decided to meet the pair.
"I asked where he was going to have his honeymoon and he said he would not tell me," she said.
At Greenmount College, the couple were greeted by a number of dignitaries including Mayor of Antrim Pam Lewis and Lord-Lieutenant of Antrim, Joan Christie.
The prince and his fiancee were given a demonstration in creating a stock proof post and wire fence before Prince William took the opportunity of refereeing a tug-of-war competition.