NI housing prices 'still falling' says survey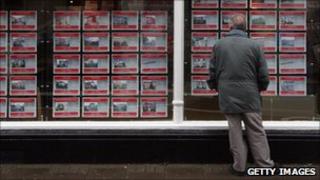 Northern Ireland house prices are still falling, according to the latest survey by the Royal Institution of Chartered Surveyors (RICS) and Ulster Bank.
But the study predicts that the number of property sales should rise during the next three months.
RICS housing spokesman Tom McClelland said keenly priced new-build homes and repossessed properties priced at 2003/2004 levels were selling.
However re-sales of existing properties were limited.
"These properties are often not priced to reflect market realities, with sellers unwilling to accept the price drop that has taken place," he said.
"When re-sale properties are priced correctly though, the evidence is that there is activity."
Mr McClelland said prices were down by about 50%, making homes more affordable.
"For activity levels to get back to 'normal', properties have to be priced to reflect this," he said.