Westlink baby: A taxi driver's special delivery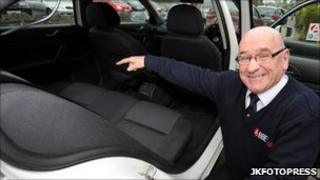 Taxi drivers are not usually short of conversation, but events in the back of Frank Ritchie's cab at the weekend should keep him in chat for weeks.
One of the Newtownabbey driver's passengers went into labour en route to the hospital.
Angela Fegan, from Carnmoney, had been hoping to make it to the Royal Victoria Hospital, but had to settle for a roadside delivery on Belfast's Westlink.
Angela's husband Billy and taxi driver Frank helped her, and each other, through the birth.
Billy said the couple were fairly relaxed about the impending birth as it was their third child. Although Angela's waters broke at 0530 GMT on Saturday, the Fegans did not phone for a taxi straightaway.
Frank said the fun really started when the taxi was driving down Church Road towards Belfast's Abbey Centre where Angela "was definitely having very strong contractions".
"When we got on the motorway and she told me the head had popped out I knew things were a bit drastic," he said.
"When we got onto the Westlink we had to pull in to the side and Billy tried his best to help his wife with the child and I just tried to pull the lady up."
Husband Billy said that although his mother is a midwife in New Zealand he had "absolutely not a clue" about what to do.
"I just sort of untangled him and wrapped him up and handed him up to her," he said.
"I gave Frank a bit of a kick when I had a bit of a panicky moment. But he was brilliant, he helped move her up into position so I could get into the back of the car, he was 100%."
Frank said the experience was "definitely a first" for him.
He said staff from the maternity unit at the hospital "were absolutely fantastic".
"They were able to do everything without saying a word, they were able to just get on with it," he said.
Billy said he had wanted to call his new baby boy after Frank, but Angela had other ideas.
"I was going for Francis Westlink, but the missus didn't like that, so I think we're going to call him Isaac," he said.
Isaac Fegan weighed 9lbs 3st and both he and his mother Angela are reported to be doing well.