Redmond for culture workshop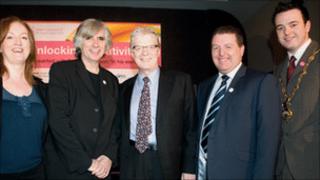 Phil Redmond will host a workshop in Londonderry on Monday to discuss the opportunities that will be provided when Derry becomes the first UK City of Culture in 2013.
Mr Redmond, CBE, led the culture competition's judging panel.
He will be joined by author Sir Ken Robinson for the 'Cracking the Code' event at The Playhouse.
The cultural, economic and educational life of the city will be discussed at the event.
The Mayor of Derry, Colum Eastwood, said the event was a perfect opportunity for the city to learn how to exploit its talents in preparation for City of Culture 2013.
"This is an exciting opportunity for people across the city to find out how to make the most of their creativity," he said.