Michael Taggart sued over Belfast apartment purchase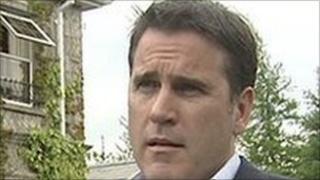 A man whose house building empire collapsed is being sued for his failure to complete on the purchase of a Belfast apartment.
Michael Taggart agreed to buy an apartment in the James Clow building in the docks area of the city.
The company which owns the building is controlled by Cookstown-based developer Desmond Nugent.
Mr Taggart and his brother John owned Taggart Holdings which went into administration in 2008 owing £300m.
Last week, a judge ordered the two men to pay back £8.5m they gave to Ulster Bank in personal guarantees.
The apartment case is listed for hearing in Belfast on Wednesday.
Mr Taggart said that he was "one of hundreds of people in Northern Ireland that this had happened to".
"This is nothing more than a case of the banks funding property developers to sue individuals like myself to obtain as much as possible to repair their own balance sheets," he added.
"It is another example of the lack of due diligence typically carried out by the banks whenever developers purchase land for development.
"We are now at realistic property prices, where we should always have been if the regulator and the banks had been carrying out their proper duties.
"The entire country is being effectively rewritten at the cost of every working-class man and woman."
Michael Taggart has already been sued by Big Picture Developments for failing to complete on the purchase of an apartment on Ormeau Road in Belfast.
John Taggart has been sued over his failure to complete on the purchase of another property in the city's Titanic Quarter.
Since the collapse of Taggart Holdings, Michael Taggart has gone back into property development in the Irish Republic.