Revisiting the burning of Bombay Street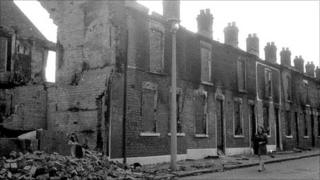 Journalist Lawrence Pitkethly, who now lives in Paris, revisits the scene of harrowing human suffering that started his career as a young television reporter in the late 1960s in a new documentary for BBC One Northern Ireland.
Lawrence recalls his return to Bombay Street in west Belfast.
It began with a telephone call from a Belfast filmmaker. Did I recall appearing in a film called The Other Side of the Coin, about the burning of Bombay Street in August 1969?
I racked my brains, but all I could think of was a religious programme for BBC London where I walked with Reverend Sydney Callaghan through the shells of burnt-out houses.
Then Vincent Kinnaird, the filmmaker, sent me a DVD of interviews for The Other Side of the Coin, that had been pulled from broadcast because they were regarded as too raw, too inflammatory for the time, and there, unmistakably, was the proof of the pudding.
I saw myself on film as a young reporter wading into the aftermath of trauma, talking to residents of a street that had been burnt to the ground.
The images were visceral, poignant, with x-ray sharpness, graphically true to the moment captured.
I saw the woman plunged into uncharacteristic bitterness, who would have seized a machine gun if she'd been able, and the old man in a cap in his doorway, that was all remained of his home, eschewing bitterness.
And there was I, volubly naïve, summoning all of my deeply shaken idealism to ask whether, despite this transgression, Protestants and Catholics could still live together in harmony.
That question, I saw 40 years on, was the correct one to have asked, the only one - if hearing it now grated - that counted, and it reflected everything my upbringing had taught me.
My parents were both raised in east Belfast: my father in Neill's Hill, off the Ravenhill Road, and my mother in an artistic family in Jocelyn Cottage, an old world, former dower house, off the Woodstock Road.
My father was a Labour man all his life, anti-establishment, wedded to values of toleration and social responsibility; my mother a devout evangelical Christian who devoured spiritual comfort books, and practised what she preached.
I inherited from both of them a large-hearted, inclusiveness that was perhaps easy to practice in Bangor where we lived. Nothing happened to disturb that universe until the suddenness of history intervened in August 1969.
I was home from London to visit my parents when the BBC asked me to help out reporting the events.
Days with little sleep passed, days spent zipping in and out of working class streets where there'd been gunfire or houses had been burned, or there were casualties.
Things mostly happened too fast to pause for self-refection, though one night driving home on the Sydenham Bypass I stopped the car and started sobbing for the city and its residents, my own people, subjected to horrifying communal warfare, and to the disproportionate response from the RUC before the British Army arrived to restore order.
A week later I drove my father, who'd been a commercial traveller in Belfast for most of his working life, to Royal Avenue to see the checkpoints.
"Desperate," my father said. "In my day the open trams in Ravenhill were caught in crossfire and you had to lie flat on the floor. I thought we'd done with that."
But have we ever done with that?
Little did my father and I expect that this question was a prelude to a 30-year war that was to take more than 3,000 lives.
The question also underlies Vincent Kinnaird's fine film, The Burning of Bombay Street.
The filmmaker shrewdly views the event from different angles and points his camera at surprising scenes that give the film a deeply personal slant.
Undoubtedly, everyone interviewed in the film was forced to rethink, to reconsider a moment in time and its aftermath. Yet I can only speak for myself.
By taking me back to Belfast from Paris where I live, Vincent forced me to probe my own reactions, 40 years on, to a searing experience in my youth.
The strongest reaction I had was that those moments captured on film mattered.
The footage - censored at the time - sat in a vault for decades, but its exposure to the light of broadcast gives the participants the opportunity to be heard at last, even after the passage of years.
Yet The Burning of Bombay Street is about more than reconstituted footage, and re-visiting yesteryear. It's a film about the hope that's in the details.
This is suggested in the film when I interview Vincent's father and mother who were married in extraordinary circumstances right after Bombay Street was burned.
Then the architect who redesigned the houses notes that he added the beginnings of a cross-street from Bombay Street that would lead through where the peace wall stands now to the Protestant side, an emblematic link to a future point when the wall will be torn down.
Standing on that stub of road with Reverend Harold Good and Father Des Wilson, both of whom I'd filmed with in August 1969, I had a fleeting vision of a future that otherwise felt utopian in the face of the great clunk of wall and wire that fences in the community and still protects it from the threat of attack.
Have we done with that? Not yet, not physically in Bombay Street, but the film is cause for optimism.
The Burning of Bombay Street is on BBC One Northern Ireland tonight (Monday, March 7) at 10.35pm.