Mother 'raped in front of children' in Bessbrook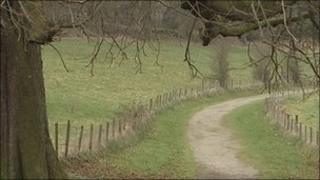 A young mother has been raped while out walking near Bessbrook, County Armagh, with her two children.
Police said the 23-year-old was walking in Derramore Woods on Saturday afternoon when she noticed a man with a dog following her.
As she approached an area known as the Bridge he attacked her.
Police said the man was in his 50s, with white hair and was wearing a beret and a dark-coloured jacket. He was walking a white dog with a tartan coat.
The man ran off when one of the children began to cry, police added.
They have appealed for anyone who may have been in the wood at around 1645 GMT on Saturday to contact them.