Cork air crash survivors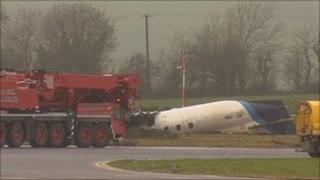 Six passengers survived the air crash at Cork airport which claimed the lives of six other people.
Donal Walsh from Waterford and Laurence Wilson from Larne, County Antrim were discharged from hospital on Friday afternoon.
Four others including Heather Elliott from Belfast and Brendan Mallon from Bangor will remain in hospital for at least two weeks.
Donal Walsh
Donal Walsh, 21, was on his way home to County Waterford from Belfast following a training course with IFES Ireland, a Christian Unions group.
His father John said his son was in "good form and doing well".
"We didn't know he was on the flight until a friend rang my wife to say he was all right. It was then that the story unfolded. He hasn't said a lot about it," he added.
"It was sitting at the back of the plane that saved him."
He was discharged from hospital on Friday.
In a joint statement with Lawrence Wilson he said: "We want to express our condolences to the families of the deceased and say that our thoughts and prayers are with them at this very difficult time."
Laurence Wilson
Laurence Wilson from Larne, County Antrim, was travelling to Cork for a fork-lift truck driving course.
The father-of-three was cut from the crash by rescuers and was taken to hospital with minor injuries.
Mr Wilson's wife has described him as a "walking miracle".
His business partner, Malachy Delargy from Larne Skills Development, was one of the first people to speak with Mr Wilson after the crash.
"He (Laurence) rang the office and asked them to get in touch with his wife," Mr Delargy said.
"I had already rang her to tell her there had been an accident. So shock turned to relief when we heard he was OK."
Mr Delargy said his partner was in good spirits "all things considered".
"He didn't say much about the crash, just that he had an awful sense of suffocation. He said his face was covered in mud and soil.
"He was lying upside down at the back on the plane. He said the rescuers were there fairly quickly and they got him out."
Heather Elliott
Mother-of-three, Heather Elliott from Belfast, was also on board the flight.
Bishop of Down and Dromore, Reverend Harold Miller, said Mrs Elliott, who is a lecturer at Downpatrick Technical College, was on her way to visit her mother in Kinsale, County Cork, when tragedy struck.
"I had heard of the crash in the early afternoon and I knew that this was a flight that Heather did sometimes use and never for one moment thought that she'd be on the plane," he said.
"It wasn't until I came in at tea-time that there were a couple of messages on the answering machine explaining that Heather was a survivor from the crash.
"I understand that Heather is comfortable and we are thankful that she is expected to make a full recovery."
Brendan Mallon
Brendan Mallon, 36, from Bangor, is the Commercial Trade Manager for holiday company Falcon Holidays. He was travelling to Cork for the official launch of a new franchise in Bandon.
The married dad-of-two will undergo surgery at Cork University Hospital and will be transferred to Belfast when he is well enough.
His wife Heather said: "I cannot thank God enough that Brendan is alive.
"It's a miracle that he has survived and I would like to thank everyone involved, in particular the emergency services and the staff in hospital who have been absolutely fantastic.
"I will be forever in their debt.
"My thoughts and prayers are with all of those who lost their loved ones. I thought I had lost Brendan too so I understand the pain that they are feeling.
"I'm just so thankful now that Brendan has survived. He is my life and he means everything to me, along with our two children.