Cork Airport to resume full service from Saturday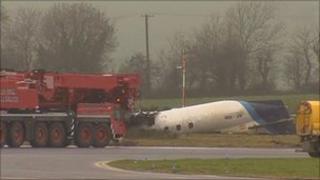 Cork Airport is expected to resume full service from Saturday, following the clearance of the wreckage of the Metroliner Turboprop plane which crashed, killing six people.
The first commercial flight to land at Cork airport arrived safely from Gatwick at about 1900 GMT on Friday.
Six people were killed on Thursday when the Manx2 flight from Belfast to Cork overturned and caught fire after landing on its third attempt.
There was heavy fog at the time.
The five men and one woman who were injured spent the night at Cork University Hospital.
Two of the survivors were released from hospital on Friday lunchtime.
In a statement issued on their behalf by the Republic's Health and Safety Executive South, Donal Walsh and Lawrence Wilson and their families "wish to express their condolences to the families of the deceased and to say that their thoughts and prayers are with them at this very difficult time."
The names of the six men who died have now been released.
Among the victims was Brendan McAleese, who was from Tannaghmore in County Antrim and was a cousin of Irish president, Mary McAleese's husband.
Pat Cullinan was originally from Plumbridge, County Tyrone, and a partner in accountancy firm KPMG in Belfast. A third victim, Captain Michael Evans, was a deputy harbour master at Belfast Harbour.
The Spanish pilot, Jordi Gola Lopez, was also killed alongside his British co-pilot Andy Cantle, who was from Sunderland.
The sixth victim was Richard Noble from Yorkshire.
Five teams from Ireland, the UK, Spain and the US, are investigating what caused the Manx2 flight from Belfast to crash on landing.
The plane came down in thick fog and burst into flames. Six people died and six were injured.
Investigators removed the wreckage of the plane at about 1645 GMT on Friday.
Paddy Judge from the Air Accident Investigation Unit said two black boxes have been recovered from the aircraft.
"The cockpit voice recorder will probably go to Farnborough to be downloaded and read there," he said.
"The flight data recorder, which records the parameters associated with the aircraft will be going up to our air accident investigators in Dublin to be read there."
Preliminary report
Irish Minister for Transport Pat Carey said a preliminary report on the crash would likely be available within weeks, although a more detailed one would take much longer.
Mr Carey said what was clear from initial reports was "how quickly the emergency response got under way".
However, it is expected that a final report could take more than a year to complete given the serious legal and financial implications of the accident.
Books of condolence were opened at Cork City Hall and Cork County Hall to allow members of the public express their condolence to the families of the victims of the plane crash.
Fr Joesph O'Connor from Plumbridge said a mass will be said on Sunday for Mr Cullinan and the other victims.
He added: "There is nothing we can say except we love you and we are praying for you. On Sunday in our church we're saying mass for all those who died, the injured, their relatives and for the rescuers."
Injured
Meanwhile, relatives of some of the six people injured in the accident have been visiting them at Cork University Hospital.
Dr Gerry McCarthy, a consultant at the hospital, said: "We've got four people with serious injures, two of them had to go to our intensive care unit where they remain at the minute.
"They have remained stable throughout the day so really they're stable, but with serious injuries involving their chest, abdomen and spine."
Laurence Wilson from Larne managed to walk away from the crash and telephoned his wife to tell her he was safe.
The flight was scheduled to depart Belfast at 0750 GMT and eventually left at 0812 GMT. It was due to land in Cork at 0910 GMT.