Blind adventurer faces rehabilitation challenge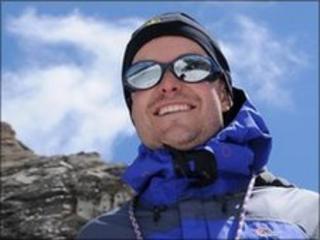 A blind adventurer from Holywood, County Down has returned to Dublin to continue his rehabilitation after suffering a serious spinal injury.
Mark Pollock suffered broken bones and internal injuries after he fell 25ft from a window of a house in Berkshire in July last year.
He spent the last seven months at Stoke Mandeville hospital in England before returning to Dublin last week.
The 34-year-old has taken part in a number of extreme challenges since losing his sight in 1998.
He became the first blind person to trek to the South Pole in 2009.
Mr Pollock fractured his skull, suffered bleeding on his brain, broken ribs and his chest was filled with blood in the fall.
He also broke two parts of his spine which left him paralysed from the waist down.
"I spent July in intensive care and then I had metal work put into my back in early August," he said.
"Over the next six or seven months I was supposed to be in rehab in the gym learning how to use the wheelchair and trying to put some weight back on, but I kept getting infection after infection and really, for six of the seven months since my injury, I have been really really sick.
"I have just started to feel better recently and I'm just starting to get the benefits of all the rehab work I'm doing in the gym."
He admitted that it had not been easy to stay positive.
"I haven't been feeling fantastic since the accident," he said.
"At times I had to look at other people in the hospital. There was a young guy in Stoke Mandeville hospital who was paralysed from the neck down and he was the most positive person in the hospital."
The adventurer said he counts himself lucky that he was "only paralysed from the waist down".
"Even in the worst of circumstances, I had to put things in perspective. There are lots of other people who are worse off than me.
"Just because I went blind, I didn't want blindness to rule my life.
"Equally now that I'm paralysed I don't want paralysis to be the be all and end all of my life.
"I want to pursue my work goals, get back involved in sport and carry on living my life."
He said his next personal challenge would have to wait until he builds his strength.
"I'm going to work hard here in rehab in Dublin," he said.
"I'm also planning to go to America, not for any miracles, but there are some spinal injury gyms who train people with spinal injuries to an elite level.
"With a spinal injury it's even more important for your health to be as fit as you can and I suppose that will eventually result in me eventually entering another South Pole, I just don't know yet what my next South Pole is going to be."